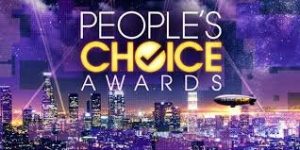 (courtesy of Total Reporter)
The 43rd People's Choice Awards – fan faves in Movies, Music & TV – were held on Wednesday, January 18. Host Joel McHale took center stage and steered clear of politics at this year's festivities which was broadcasted live from Microsoft Theater in LA.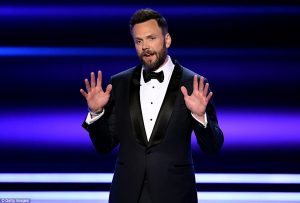 (Courtesy of Daily Mail)
Did you see the show? Any surprises for you? Disappointments that one or more of your faves that didn't get a trophy?
Hollywood couldn't have been more excited with the big names who attended and those who won at the annual awards show. Ellen set a record picking up 3 trophies for a total of 20 wins.  It took 30 years but the cast of 'Fuller House' finally won a People's Choice Award.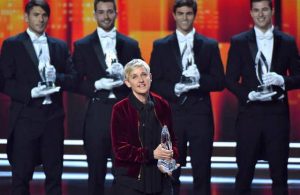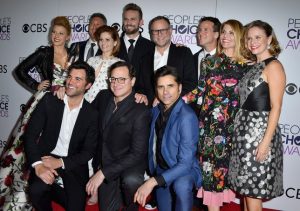 (courtesy of Kansas City Star)                                                       (Courtesy of Glamour)
In case you missed the broadcast here's a complete list of winners by category.
Favorite Movie Icon: Johnny Depp
Favorite Movie Actor: Ryan Reynolds
Favorite Movie Actress: Jennifer Lawrence
Favorite Action Movie: Deadpool
Favorite Action Movie Actress: Margot Robbie
Favorite Dramatic Movie: Me Before You
Favorite Comedic Movie: Bad Moms
Favorite Movie: Finding Dory
Favorite Network TV Comedy: The Big Bang Theory
Favorite Comedy TV Actress: Sofia Vergara
Favorite Thriller Movie: The Girl on the Train
Favorite TV Show: Outlander
Favorite New TV Comedy: Man With a Plan
Favorite New TV Drama: This Is Us
Favorite Group: Fifth Harmony
Favorite Action Movie Actor: Robert Downey Jr.
Favorite Actor in a New TV Series: Matt LeBlanc
Favorite Actress in a New TV Series: Kristen Bell
Favorite Competition TV Show: The Voice
Favorite Hip-Hop Artist: G-Easy
Favorite Dramatic TV Actress: Priyanka Chopra
Favorite Premium Series Actress: Sarah Jessica Parker
Favorite Comedic Movie Actress: Melissa McCarthy
Favorite Cable TV Comedy: Baby Daddy
Favorite Animated Movie Voice: Ellen DeGeneres, Finding Dory
Favorite Daytime TV Host: Ellen DeGeneres
Favorite Comedic TV Actor: Jim Parsons
Favorite Dramatic TV Actor: Justin Chambers
Favorite Breakout Artist: Niall Horan
Favorite Cable TV Drama: Bates Motel
Favorite Cable TV Actor: Freddie Highmore
Favorite Cable TV Actress: Vera Fermiga
Favorite Sci-Fi/Fantasy Actor: Sam Heughan
Favorite Sci-Fi/Fantasy Actress: Caitriona Balfe
Favorite Late Night Talk Show Host: Jimmy Fallon
Favorite Female Artist: Britney Spears
Favorite Female Country Artist: Carrie Underwood
Favorite Country Group: Little Big Town
Favorite R&B Artist: Rihanna
Favorite Pop Artist: Britney Spears
Favorite Social Media Celebrity: Britney Spears
Favorite Animated TV Show: The Simpsons
Favorite Daytime TV Hosting Team: Good Morning America
Favorite Premium Sci-Fi/Fantasy Show: Outlander
Favorite Network Sci-Fi/Fantasy Show: Supernatural
Favorite Cable Sci-Fi/Fantasy Show: The Walking Dead
Favorite Comedic Collaboration: Britney Spears and Ellen DeGeneres' Mall Mischief
Favorite Social Media Star: Cameron Dallas
Favorite Premium Drama Series:  Orange Is the New Black
Favorite TV Crime Drama Actor: Mark Harmon
Favorite TV Crime Drama: Criminal Minds
Favorite Network TV Drama: Grey's Anatomy
Favorite YouTube Star: Lilly Singh
Favorite Premium Comedy Series: Fuller House 
Favorite Dramatic Movie Actor: Tom Hanks
Favorite Male Country Artist: Blake Shelton
Favorite Album: Blake Shelton, If I'm Honest
Favorite Dramatic Movie Actress: Blake Lively
Favorite Premium Series Actor: Dwayne "The Rock" Johnson
Favorite Male Artist: Justin Timberlake
Favorite Song: Justin Timberlake, "Can't Stop the Feeling"
Favorite Comedic Movie Actor: Kevin Hart
Favorite TV Crime Drama Actress: Jennifer Lopez
Favorite Humanitarian: Tyler Perry