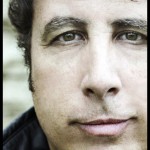 Steve is Italian and it comes out in everything. He's a dork, warm hearted, practical joker, uses the word "cool" too much and gets bored easily. He's always looking for good BBQ, pizza and Gelato when he's not playing drums.
Instagram @steverussoofficial Twitter @steverusso1
Childhood ambition: professional drummer
Soundtrack: Rocky
Alarm clock: 6:30 AM
Perfect Day: One of 2 places – hanging out at the beach ending the day with a great fresh fish dinner or by a lake in the mountains finishing the day with some awesome BBQ.
First Job: delivering papers so I could buy my first drum kit.
Animal: Tiger
Movie: Can't pick just one…The Godfather, Rocky IV, Inception, Catching Fire to name a few
Indulgence: Dark chocolate, Moose Tracks Ice Cream and pizza
Favorite place to visit: Italy
Dinner with anyone: Jesus & Gandhi
Little known fact: Member of a dance troupe while in elementary school and tap danced on TV.