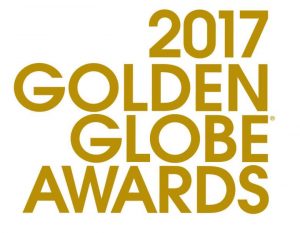 (Courtesy of heavy.com)
Some called it dull. The NFL wildcard game on Fox hit the ratings hard. New host Jimmy Fallon had a Mariah moment with a teleprompter.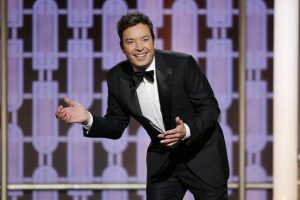 (Courtesy of The Independent)
"La La Land' made history while "The Crown" stole a surprise win. Carrie Fisher and Debbie Reynolds were honored. Steve Carell and Kristen Wiig killed it as presenters while Billy Bob Thorton gave a touching speech.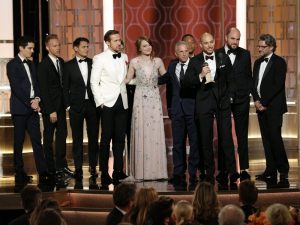 (Courtesy of WBUR)
Were there any surprises for you about who received awards? Disappointments? Here's a full list of the winners by category in case you missed them.
FILM CATEGORIES
Best Motion Picture – Drama:
"Moonlight"
Best Motion Picture – Musical or Comedy:
"La La Land"
Best Performance by an Actor in a Motion Picture – Drama:
Casey Affleck – " Manchester By The Sea"
Best Performance by an Actress in a Motion Picture – Drama:
Isabelle Huppert – "Elle"
Best Performance by an Actor in a Motion Picture – Musical or Comedy:
Ryan Gosling – "La La Land"
Best Performance by an Actress in a Motion Picture – Musical or Comedy:
Emma Stone – "La La Land"
Best Performance by an Actor in a Supporting Role in a Motion Picture:
Aaron Taylor-Johnson – "Nocturnal Animals"
Best Performance by an Actress in a Supporting Role in a Motion Picture:
Viola Davis – "Fences"
Best Director – Motion Picture:
Damien Chazelle – "La La Land"
Best Original Screenplay:
"La La Land"
Best Motion Picture – Foreign Language:
"Elle" – France
Best Motion Picture – Animated:
"Zootopia"
Best Original Song – Motion Picture:
 "City Of Stars" – La La Land
Best Original Score – Motion Picture:
Justin Hurwitz – "La La Land"
TELEVISION CATEGORIES
Best Television Series – Drama:
"The Crown"
Best Television Series – Musical or Comedy:
" Atlanta"
Best Performance by an Actor in a Television Series – Drama:
Billy Bob Thornton – "Goliath"
Best Performance by an Actress In A Television Series – Drama:
Claire Foy – "The Crown"
Best Performance by an Actor in a Television Series – Musical or Comedy:
Donald Glover – " Atlanta"
Best Performance by an Actress in a Television Series – Musical or Comedy:
Tracee Ellis-Ross – "Black-ish"
Best Limited Series:
"The People v O.J. Simpson: American Crime Story"
Best Actor, Mini-Series or TV Movie:
Tom Hiddleston – "The Night Manager"
Best Actress, Mini-Series or TV Movie:
Sarah Paulson – "The People v O.J. Simpson: American Crime Story"
Best Performance by a Supporting Actor in a Series, Limited Series or Motion Picture Made for Television:
Hugh Laurie – "The Night Manager"
Best Performance by a Supporting Actress in a Series, Limited Series or Motion Picture Made for Television:
Olivia Colman – "The Night Manager"
Cecil B DeMille Award: Meryl Streep