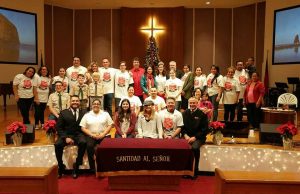 Utalk Crew, Salvation Army, Staff and volunteers
This month we held the first ever "Rockin Red Christmas Experience" in Hollywood. Working in conjunction with our friends at the Salvation Army; Rockin' Red was a special event for young adults experiencing homelessness or housing instability in the Hollywood area.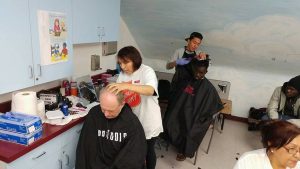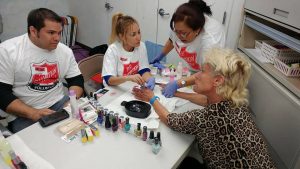 The four hour event was packed with activities, food, celebrities, entertainment and give-aways. Upon arrival those who attended could watch a movie, play video games, shoot hoops, play pool, grab a snack, listen to a band, get a haircut or a manicure.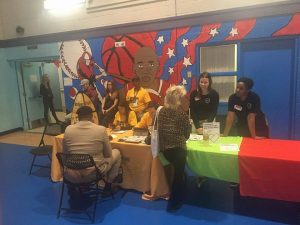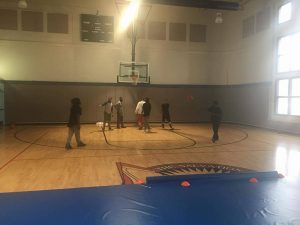 Everyone who attended Rockin' Red had the chance to record a video message and have it sent to a loved-one. Those over 18 at the event could also get a free smart phone.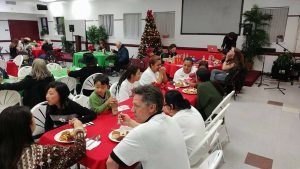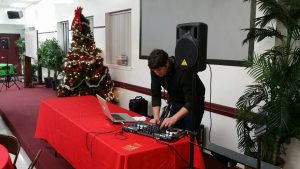 DJ Robert Eibach
A special holiday meal with all the trimmings was served to everybody. DJ Robert Eibach provided music during the meal. Next came the entertainment part of the event hosted by the Utalk crew. Besides music from our own Larissa and a drum solo from Steve; Kati – the recently crowned Ms. California American Diamonds – also joined her co-host on the stage.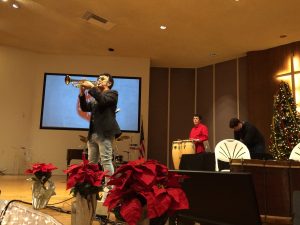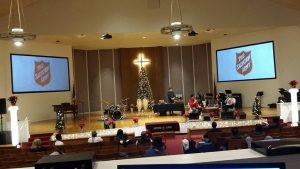 David Longoria, Steve and Robert Eibach                 Steve, Larissa and Kati interviewing Kevin Sizemore
Grammy-award winning music producer and trumpeter David Longoria performed a song from his latest album The Journey. Celebrity guests Kevin Sizemore and Issac Ryan Brown, from the new movie Believe, talked with Steve, Larissa & Kati. After showing a unique video of candy maker Jerry from Logan's Candies, Steve shared the story of the Legend of the Candy Cane. Everyone who attended received a custom-made candy cane from Logan's as well a copy of the legend story.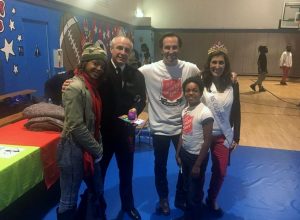 Kati with Issac Brown, Kevin Sizemore and friends            Larissa, Steve and Issac performing a song
Kati and Larissa had fun using Facebook Live to let others check different parts of the event as they happened.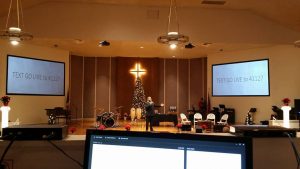 Lt. Javier Castro
Lt. Javier Castro, from the Salvation Army Hollywood welcomed everyone and encouraged them to take advantage of the various programs at the facility.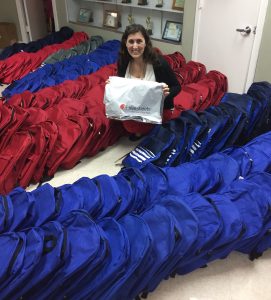 Kati holding the Heatsheet Emergency blankets we gave in all the backpacks           
Upon leaving Rockin' Red everyone received a new backpack packed with things like a Christmas stocking, candy from the Los Angeles Fire Department, bottled water provided by Niagara Water, non-perishable food,snacks from Frito-Lay, personal hygiene kits as well as an emergency blanket provided by Heatsheets. Each person received a new pair of shoes and a jacket.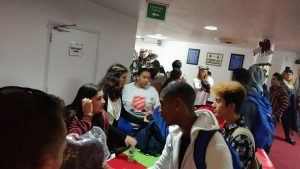 Handing out backpacks, shoes and jackets
It was a great event that we look forward to doing again in Hollywood and hope to inspire in other cities across the country.