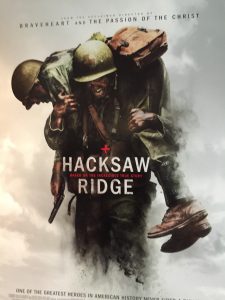 Hacksaw Ridge is the amazing true story of Desmond Doss, a United States corporal and combat medic during WWII. He was assigned to a rifle company of the 1st Battalion, 307th Infantry, 77th Infantry Division during one of the bloodiest battle of the war.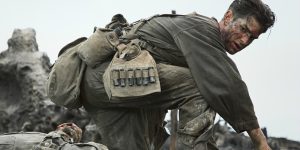 He miraculously saved 75 men in 12 hours during the Battle of Hacksaw Ridge, on the island of Okinawa. And he did it all without a weapon!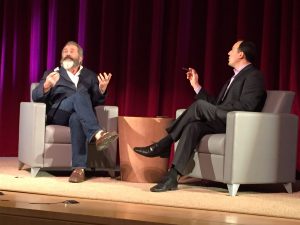 Steve and Kati, from the Utalk crew were able to attend a private screening of the film. After a reception they were also able to attend an exclusive interview with the film's director Mel Gibson.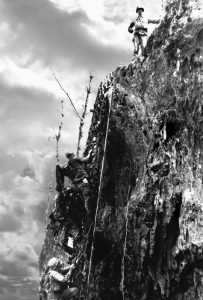 Courtesy of hacksawridge.com
Hacksaw Ridge was a close combat fight with heavy weaponry. Thousands of Japanese and American soldiers were killed. Doss not only survived the battle, saving so many lives, but he continues to confound those who know his story.
Veteran Carl Bentley, who was also at Hacksaw Ridge, says in the documentary, "It's as if God had his hand on [Doss'] shoulder. It's the only explanation I can give."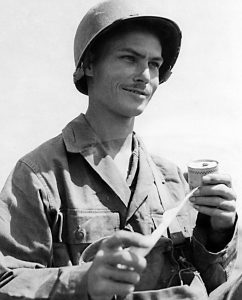 The Real Desmond Doss – Courtesy of hacksawridge.com
Desmond was a Seventh-day Adventist who wouldn't touch a weapon or work on the Sabbath. His story couldn't be told without talking about his faith because it undergirds his life.
He enlisted in the Army as a combat medic because he was committed to the cause, but made a vow not to kill. The Army wanted nothing to do with him because he didn't fit the mold of what a good soldier should be. They saw him as a slacker. His commander Captain Jack Glover even tried to get him transferred.
But despite their efforts, the Army couldn't force Doss to use a weapon. A 1940 law allowed conscientious objectors to serve the war effort in "noncombatant" positions, so Doss went with his company as a medic to the Pacific.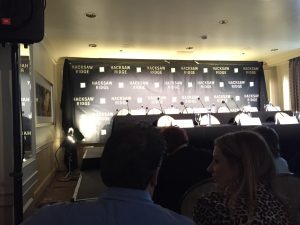 In conjunction with the Salvation Army, Steve was invited to attend the press conference prior to the release of the film. It's an important reminder of the veterans who struggle with PTSD and how important it is to care for them. The Salvation Army is at the forefront of creating awareness and caring for our vets in a variety of ways.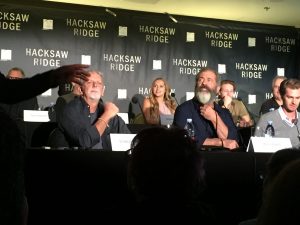 Mel Gibson describes the film as a love story – not just between a man and a woman – but also the dramatic demonstration of a truth from the Bible that's there's no greater love a man can give for others than a willingness to give his life for them.
Andrew Garfield, who stars as Doss, initially had doubts that he could play the part because of the "unique spirituality" Desmond had. This was reflected by Desmond's simple prayer uttered after each soldier he rescued, "Lord, just one more. Let me rescue one more."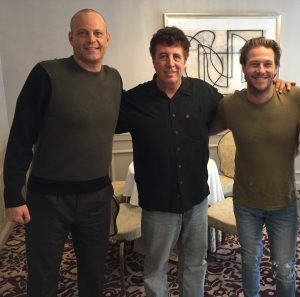 After the press conference Steve had the opportunity for a private conversation with Vince Vaughn and Luke Bracey, two of the stars of the film. They discussed why the film is important for this generation to view and reflect on.
It's a must see film. It comes out this weekend. Take the time to go see it with some friends. Discuss it and think of ways you can honor and reach out to our veterans who's commitment and courage make our freedom possible.