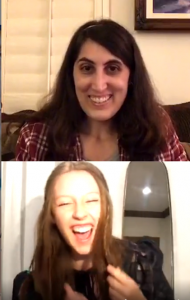 Singer, Songwriter and Recording Artist Piper Madison joined Utalk Host Kati on Instagram live for a chat and to world premiere her brand new song off her new album.
Piper is a friend of Utalk's and has been at many events with us. Kati and Piper got caught up on what they have been doing and how Covid and quarantine has impacted them. Piper lets us in on her love of dogs and Kati talks about the sheep in her neighborhood.
Piper talks to us about how she is using this time to work on herself and learn new hobbies like sewing, painting and that she has been working on a new album.
Piper and Kati tell us what is on their TikTok's which including: yoga poses, animal videos, lip sync videos and singing videos.
Piper joins our #goodbye2mean campaign and talks about things she has done to be kind to others.
Piper world premiere's her brand new song "I Found Ya".
You can watch the IG Live here: https://www.instagram.com/tv/CAb2HH6gHt7/?utm_source=ig_web_copy_link
And listen to the episode here: https://www.spreaker.com/user/utalkradio/ig-live-12-singer-songwriter-and-recordi
Follow us on social media @utalkradio