The Utalk Crew was joined by Actress, Writer, Producer and Activist Eileen Grubba. Eileen has been in shows like Criminal Minds, Swat, Sons of Anarchy. She tells us about a new project she has been working on since the pandemic.
Eileen tells us about being caught in the protests and having to pack up and leave her house due to the violence. She tells us what it was like looking out her balcony and seeing all the Police activity and the protesters in groups around her neighborhood.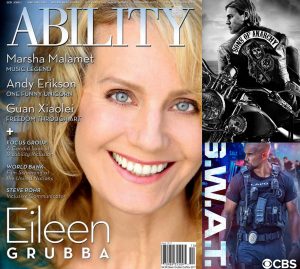 In the conversation we bring up the idea of inclusivity and diversity and that we are all humans and should be respected and valued. Eileen tells us about her work as an activist for the disability community. She fights for fair and equal treatment for those with disabilities and believes everyone has the right to speak up when they are not being treated fairly.
Eileen tells us about what it was like growing up with a disability and being bullied for it. She talks about lessons she has learned from going through her experiences. Eileen reminds us that when you have a disability it doesn't make you weaker it actually makes you stronger.
We talk about how some of the greatest people who have impacted society have gone through some sort of adversity and overcame it. Check out the full interview for more.
You can watch the IGTV episode here: https://www.instagram.com/tv/CBR9oQFABsU/?utm_source=ig_web_copy_link
You can listen to the episode here: https://www.spreaker.com/user/utalkradio/ig-live-13-actress-and-producer-eileen-g
Make sure you follow us on social media @utalkradio. You can follow Eileen @eileengrubba.