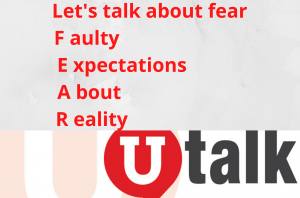 Utalk Hosts Steve and Kati had a conversation about fear and solutions. They talk about their fears, different phobias people have and crazy stories about the weirdest fears people have had including a man who always drove with his left hand out his window on the roof of his car holding it down to keep creatures from grabbing his car.
Kati shares her fear which is public speaking and Steve shares his fear of swimming.
Kati shares the top three fears of people right now: fear of contracting Covid, Fear of the future and the fear of rejection which includes: social media, romantic relationships and family/friends.
One of your hosts talk about their experience with having Covid and how they relate to people's fear about Covid. You should take precautions and take it seriously, but you shouldn't be afraid of Covid.
The future is so uncertain, and everything is up in the air right now so fear of the future is legitimate because we don't know what is going to happen. Social distancing, businesses closed and mask wearing has become the new normal.
Steve and Kati talk about a big fear right now which is the fear of rejection. People are afraid of not getting likes on their posts, not getting matches on dating profiles, and being rejected by their friends.
Are all of these fears reality or faulty expectations of reality? How do we deal with Fear? Think of fear in this way: Faulty, Expectations, About, Reality. What is the reality of the situation? Is it as bad as you really think it is?
Check out the IG Live episode here: https://www.instagram.com/tv/CCaCoIwAQtw/?utm_source=ig_web_copy_link
You can listen to the Episode here: https://www.spreaker.com/user/utalkradio/ig-live-15-lets-talk-about-f-e-a-r-fault
Follow us on social media @utalkradio