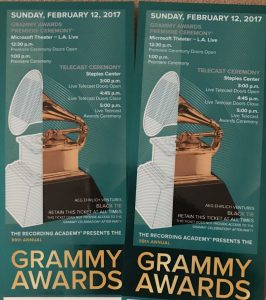 Music's biggest day was packed with music, awards and friends for the Utalk crew. In case you missed it here's a rundown of some of the highlights..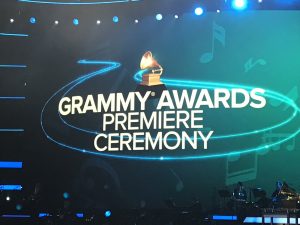 It began with a Pre-Grammy meet and greet at the Marriott Hotel. Next was the Premiere Ceremony at the Microsoft Theater where the first Grammy awards of the day in 70 categories were presented. Special performances included music legend Judy Collins, the O'Conner Band and Ziggy Marley.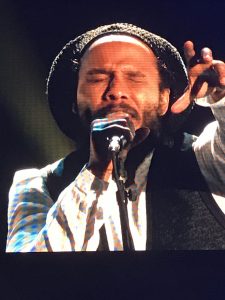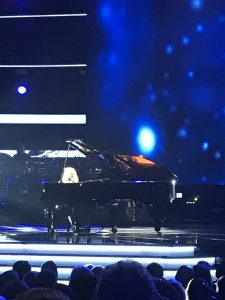 (Ziggy Marley)                                                                                                     (Judy Collins)
After this came the 59th Grammy Awards show live from Staples Center. Host James Corden kicked it off with poetry and pratfalls. It turned out to be one of the best shows in the past few years with an amazing line up of performers including Adele, Bruno Mars, Chance the Rapper, Lady Gaga and Metallica, Little Big Town. Katy Perry, Ed Sheeran, The Weekend, Carrie Underwood, Keith Urban and Demi Lovato.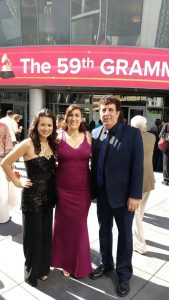 (Utalk Crew -Larissa, Kati, Steve)
Corden even managed to include a Carpool Karaoke segment with Neil Diamond leading a "car-full of friends" – J-Lo, John Legend, Tim McGraw, Faith Hill, Keith Urban, Ryan Tedder, Jason Derulo and almost 15,000 people in the arena – in his timeless hit "Sweet Caroline.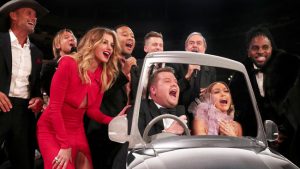 (Courtesy of latimes.com)
There was a  tribute to the Bee Gees featuring Demi Lavoto, Andra Day and Tori Kelly celebrating the 40th anniversary of Saturday Night Fever. Bruno Mars and The Time took to center stage at Staples Center to perform a medley of Prince's greatest hits. Mars brought the house down with his own rendition of "Let's Go Crazy." He channeled Prince's signature style in a purple sequined suit, ruffled white blouse and black eyeliner.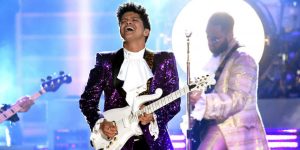 (Courtesy of esquire.com)
And, in true rock n' roll fashion, there was a major equipment malfunction during Lady Gag and Metallica's performance. Lead singer James Hetfield's microphone didn't work at all. For the first few bars of the performance the audience was treated to simply Gaga's voice. But, ever the pioneering professionals, they made do: Gaga and James simply shared a microphone. They didn't let it get them down, and Gaga in particular didn't let it get in the way of her desire to crowd surf. The singer threw herself into the arms of her adoring public, Could it have been a time warp back to 1985?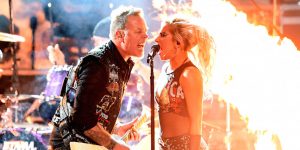 (Courtesy of spin.com)
Adele got bleeped during her tribute song to George Michael. John Legend and Cynthia Erivo used the Beach Boys "God Only Knows" in a memorial tribute to all the artists the industry had recently lost, but didn't include a moment of remembrance for singer Christina Grimmie who was killed at a tour stop in Orlando, Florida last June. A Tribe called Quest paid tribute to Phife Dawg that included the strongest political statement of the night.
                                                                  (courtesy of billboard.com)
Grammy Award presenters included DNCE, Celine Dion, Kelly Clarkson, Pentatonix, Nick Jonas, Paris Jackson, The Chainsmokers, John Travolta and Ryan Seacrest.
Here's a quick look at some of the night's big winners at the 2017 Grammy Awards:
Record of the Year: Adele, "Hello"
Album of the Year: Adele, 25
Song of the Year: Adele, "Hello"
Best Rap Album: Chance the Rapper, Coloring Book
Best Urban Contemporary Album: Beyoncé, Lemonade
Best Country Solo Performance: Maren Morris, "My Church"
Best Rock Song: David Bowie, "Blackstar"
Best Pop Duo/Group Performance: Twenty One Pilots, "Stressed Out"
Best New Artist: Chance the Rapper
Best Pop Vocal Album: Adele, 25
Producer of the Year, Non-Classical: Greg Kurstin
Best Pop Solo Performance: Adele, "Hello"
Best Alternative Music Album: David Bowie, Blackstar
Best Rock Album: Cage the Elephant, Tell Me I'm Pretty
Best Rap Song: Drake, "Hotline Bling"
For more details, performances and a complete list of winners go to:  grammy.com.