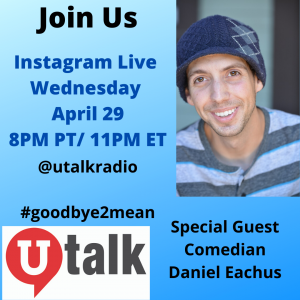 Did you miss all the laughs when we had stand up comedian, writer and actor Daniel Eachus on our Instagram live show? I'll fill you in on what you missed.
Utalk host Steve and Daniel caught up from the last time they were together. Daniel filled us in on what he has been doing during the quarantine to stay busy. He has been busy creating and working on a new show. He and another guy film separate dialogues in separate locations and then edit everything together to create instant laughs.
Daniel agreed to take our #goodbye2mean challenge. We challenge all our guests to counter meanness with niceness by doing something nice for someone. They can leave a comment on someone's social media post, do a nice act for someone else or be creative in combating meanness. Then we ask them to tag us on social media so we can share what they do and inspire all of you to do the same.
We couldn't have Daniel on the show without entertaining us with some laughs. He performed some stand up comedy for us and talked to us about the importance of being able to laugh especially during tough times like Covid19 quarantine.
Laughter is the best medicine so if you are feeling down during this time then listen to our episode with Daniel or go check out Daniels website danieleachus.com or social media @daneachus for some natural medicine.
Don't forget you can be apart of our Instagram live every Wednesday night at 8pm PT/11pm ET on our page @utalkradio.