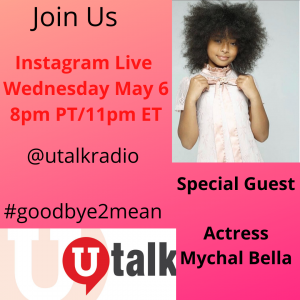 Mychal – Bella Bowman is an actress, model, theatrical talent, influencer and most recently a guest on Utalk Radio. Mychal joined us live on Instagram for a chat about how the quarantine has affected her. She had an interesting story to tell of how she got stuck on the East Coast filming her new Brad Pitt Amazon TV series Underground Railroad in which she was cast as the character of Grace.
Mychal updated us on what she has been doing to keep busy during the stay home orders. Besides spending time with family she has been doing a lot of baking. Kati wanted to get her recipe for strawberry cupcakes. Mychal has also been making TikTok videos and jumping on her trampoline.
We asked Mychal to take our #goodbye2mean challenge and to post about it online. The challenge is to do something nice for someone to counter all the meanness that is going around today. You can join the challenge as well by posting a video or photo of something nice you did for someone. Tag @utalkradio and use the #goodbye2mean.
To hear the full interview you can find us on iheartradio, Spotify, Apple Music and more. Search Utalk Radio, subscribe and download the episode.
You can keep up with Mychal-Bella Bowman on social media @mychalbella and you can follow us @utalkradio.