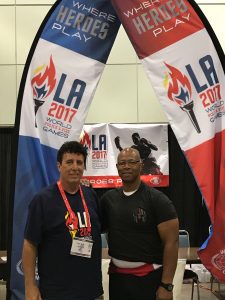 Utalk's Steve Russo and Kati Ann hosted a special episode of Instagram live. They sat down for a conversation with Police Officer, Body Builder and Power Lifter Gerald Carter. Gerald is right in the heat of where all this national unrest started with the death of George Floyd. He shared some stories with us about his experience being a Black cop in the Twin Cities including his first day on the job when he watched a young black man die in front of him.
Steve shared his experience going to a protest and interviewing some of the young adults there.
Some of the main ideas that came out in this conversation is: as a country we have lost our stability, the things that separate us are not that much of a big deal, know that the people in control will lead legally and if you want to see a change then you have to change and get your life in order first before you make a difference in your circle of influence.
You can watch the episode on IG TV and listen to it on iheartradio, Spotify, Spreaker, Apple Music and more. Search UtalkRadio and subscribe and follow to hear the episode or listen to it here: https://www.spreaker.com/user/utalkradio/ig-live-special-body-builder-police-offi_1
Check out our website utalkradio.com and our social media @utalkradio for more.