Thousands of high school students in cities nationwide skipped classes on Friday, September 20th, to attend Global Climate Strike marches calling for immediate action to end climate change. They were part of a global joint protest aimed directly at the adults who they say are ignoring the destruction of the planet.
The events come out of a groundswell of worry on the part of young people about the future of the planet. Eight national youth-led groups organized the event: Earth Uprising, International Youth Council, Youth Climate Strike, Extinction Rebellion, Future Coalition, Zero Hour, the Sunrise Movement, and Earth Guardians.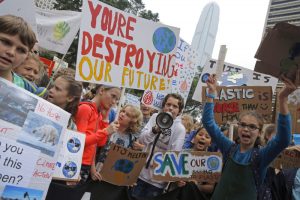 Young people in thousands of locations in more than 150 countries worldwide came together to demand that those in power fight for the communities most affected by climate change, and work to protect biodiversity and indigenous lands.
"We have to treat climate change as what it is – an emergency," said Audrey Maurine Xin Lin, an 18-year-old who was one of the coordinators of the Boston school strike and march.
The protests were timed to begin a week of activism at the United Nations, including a Youth Climate Summit and a U.N. Climate Action Summit. And there's more planned for the future.
Swedish climate activist Greta Thunberg, 16, put a face on the global movement beginning in August 2018 when she began skipping school on Fridays to stand outside the Swedish parliament holding a sign protesting inaction on climate change. She came to New York on a solar-powered sailboat to attend the strike in New York City and then the Summit.
The movement is not led by her, but a broad group of young people who say they are frightened for their futures and angry that adults have done so little. Unlike the Vietnam War protests, which were mostly college students, the organizers of these events are mostly high school and even some middle school students. Organizers asked for adults to "step back" and listen to young people. As Katie Eder, a 19-year-old executive director of one of the youth-led nonprofits organizing the strike, wrote in an op-ed on CNN, "We have no time to waste."
In an angry and emotional speech at the United Nations climate summit, activist Greta Thunberg tore into world leaders for failing to act. "This is all wrong," Thunberg said, reading from a piece of paper. "I shouldn't be up here. I should be back in school on the other side of the ocean, yet you come to us young people for hope. How dare you."
"People are suffering," the 16-year-old continued through tears. "People are dying. Entire ecosystems are collapsing. We are at the beginning of a mass extinction and all you can talk about is money and fairy tales of eternal economic growth. How dare you."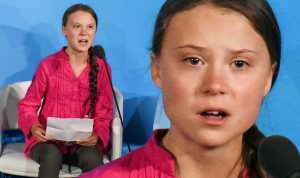 (Photo: express.co.uk)
"How dare you continue to look away and come here saying you are doing enough," Thunberg added. "You say you hear us and understand the urgency, but no matter how sad and angry I am, I do not want to believe that. Because if you really understood the situation and kept on failing to act, then you would be evil. And that I refuse to believe."
Thunberg was on a panel with other climate activists at the summit on the eve of the U.N. General Assembly to encourage countries to meet the goals of the Paris Agreement and reduce greenhouse gas emissions by 2020.
She was among 16 youth to file a legal complaint with the United Nations Monday, accusing five countries — France, Germany, Brazil, Argentina and Turkey — of not doing enough to combat climate change.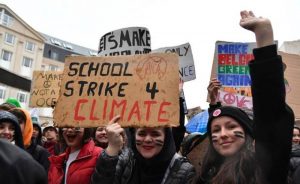 (Photo: theecologist.org)
So, were you part of a Global Strike march in your area? How'd you feel about it?
Whether you agree with all the concerns voiced by young leaders or feel like there's been some misinformed comments; we all need to do more as individuals to fight climate change and protect the environment.
Here's some things to consider to make a difference with the Climate Crunch:
1. Have a climate conversation. Talk with your friends about things you can do individually and together to make positive changes.
2. Use energy wisely. Unplug your devices when you're not using them or charging them. When they're plugged in they're still using energy. This simple step can help you reduce your 'carbon footprint.'
3. Consume less and waste less. Reduce and refuse before you recycle.
4. Pick up one piece of trash each day to properly dispose of it. Think what a difference this would make with our environment if we all took this simple action.
Be sure to share with us what other things you're doing and ideas you have to help with the Climate Crunch.
Let's work together to be caretakers of the planet instead of consumers. It affects us all!