Did you watch the Oscars over the weekend? If you did you noticed this years Oscars was different than previous years being only the second Academy Awards without a host in the shows history. The last time there was no host was in 1989 and it didn't go very well, this year fans and critics agree went as well as could be without a host.
There were several talked about moments throughout the show including Spike Lee winning his first Oscar and first time nominees' Olivia Colman and Regina King taking home Oscars for best actress and best supporting actress.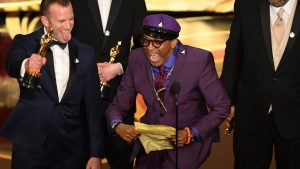 (Photo Credit: marketwatch.com)
Queen and Adam Lambert opened the show followed by a monologue by Amy Poehler, Tina Fey and Maya Rudolph who everyone said should have hosted the whole show.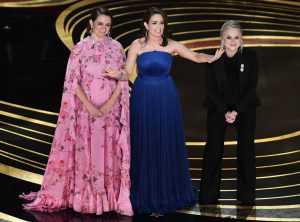 (Photo Credit: eonline.com)
Bette Midler, Jennifer Hudson and Gillian Welch and David Rawlings also performed at the show. But the most talked about performance of the night was Lady Gaga and Bradley Cooper's performance of Shallow from their movie A Star Is Born.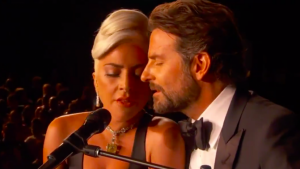 (Photo Credit: musicfeeds.com.au)
Lady Gaga's acceptance speech was more like a motivational talk and a great take away for all of us. She said; "It's not about winning. But what it's about is not giving up. If you have a dream, fight for it. There's a discipline for passion, and it's not about how many times you get rejected or you fall down, or you're beaten up. It's about how many times you stand up and are brave, and you keep going."  Great advice Gaga!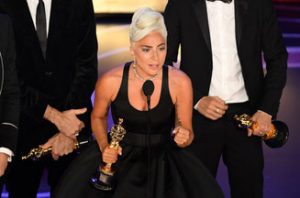 (Photo Credit: Billboard.com)
There were several other great speeches with positive messages during the night many of them from the winners of the short films category. Domee Shi the director of Bao had some words for all the nerdy girls and said "its time to stop hiding behind your sketchbooks and start getting out there and telling your stories." The Director of the best live action short Skin talked about "teaching our kids a better way."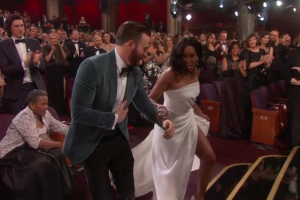 (Photo Credit: Standard.co.uk)
Overall it was a good show with many life lessons and words of wisdom that can be taken from the night. How about when Captain America himself helped best supporting actress Regina King up the stairs to accept her Oscar? Way to be an example for how to be a gentleman Chris Evans!
Here is a complete list of winners if you didn't get to watch the show: https://variety.com/2019/film/news/2019-oscars-winners-list-academy-awards-1203145638/
So many great moments at the Oscars this year what was something you took away from the show? Your favorite Speech or performance of the night?