The most significant single platform of the year to spotlight music creators happened at the 61st Annual GRAMMY Awards on Sunday, February 10th. Music's biggest night did not disappoint. Utalk's own Steve and Kati attended both the Grammy Awards Premiere Ceremony and the GRAMMY Awards Live Telecast. It was a blast!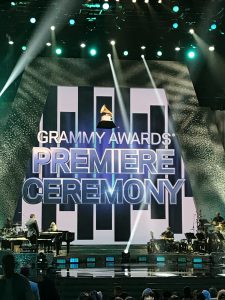 There's nothing like it any other time of the year where you see such a variety of performers from different genres all in the same show.  It usually makes a concerted effort to include something for everyone from the hottest youngest hit makers to them sharing the stage and paying tribute to the legends whose work first turned them on to the music business. As this year's host Alicia Keys said at the top of the show: "Music is what we cry to, it's what we march to, it's what we rock to, it's what we make love to…It's our shared global language and when you really want to say something, you say it with a song."
While the performances were pre-announced, producers kept a nice, tight lid on the moment that sent off a thunderous roar in the Staples Center. "Can I bring some of my sisters out here tonight?" Keys asked, and out walked Lady Gaga, Jada Pinkett Smith, Jennifer Lopez and Michelle Obama.
The Utalk Crew had lots of take-aways from this year's Grammy Awards. Here's three of the top ones that relate to a lot of us to think about and apply to your life.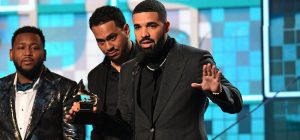 (photo credit: mensxp.com)
Drake, a 42-time nominee (sometimes competing against himself in one category) and three-time winner who hadn't attended the Grammys since 2013, when Take Care won Best Rap Album, was quite the surprised when Aubrey Graham strolled onto the stage to accept Best Rap Song for "God's Plan." Check out his classy response to not winning a Grammy:
"But look, the point is, you've already won if you have people who are singing your songs word for word, if you're a hero in your hometown," Drake continued. "Look, if there's people who have regular jobs who are coming out in the rain and the snow, spending their hard-earned money to buy tickets to come to your shows—you don't need this right here, I promise you, you already won."
What does it really mean to 'win' – with music, art, sports or any other competition? It's all about perspective and attitude. If you've got people listening, encouraging and motivating you, does it really matter if you get a trophy, medal or ribbon? As Drake said, you already won.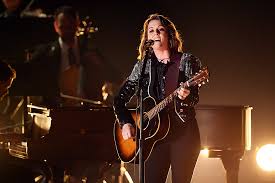 (Photo Credit:pastemagazine.com)
Brandi Carlile won three Grammys and performed her powerful song 'The Joke' during the live telecast. It was a high moment for many in the audience and watching at home. "There are so many people feeling misrepresented," she said. "So many people feeling unloved…and feeling marginalized." 'The Joke' is a song for everyone.
Don't let someone else define you. Refuse to let others put you down or make you feel like you don't fit or belong. We all have a purpose in this world. Spend time with those in your life who make you feel loved and encourage you. And take a stand against the meanness in our culture. Work with others to put an end to it. Utalk will soon be launching a new anti-bullying / suicide campaign called #goodbye2mean. Watch for more information and bring it to your area.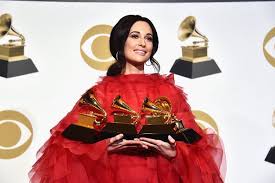 (Photo Credit: wtkr.com)
It was a big night for country star Kacey Musgraves, who not only took home the final award for album of the year, but won in all four categories for which she was nominated. In her acceptance speech, Musgraves thanks her team, family, label and more. She also shout-ed out the other artists nominated for AOTY, saying, "Winning this doesn't make my album any better than anyone else's."
What a great attitude! Not only is she grateful for her awards, but she gets it's not just about her. It's about her community. Not just in the music biz but in everyday life. None of us were designed to live as an island. We all need other people who have our back but motivate us to be the best we can be. They're there for the good as well as the not so good times. So what's your attitude about "your team"? What kind of community do you have?
Remember, Utalk is all about "you talking to us." So if you have a question, going through a tough time or just need some encouragement you can always reach out to us. Reach out on social media @utalkradio; text Utalk to 411 247; call us at 855-50utalk or send us an email. We're here for you.
BTW…if you missed the Grammy telecast and want to see how your fave artist did here's a link to check it out: https://www.nytimes.com/2019/02/10/arts/music/2019-grammys-winners-full-list.html