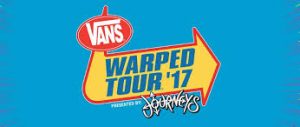 The Warped Tour '17 was awesome and Utalk was there at both the San Diego, CA and Pomona, CA locations with a booth. Steve and Derek – a new Utalk Squad member – had the chance to hang out with variety of people attending the festival to talk about life stuff and the show. We made some new friends like George; Alexandria one of the winners of our 'free stuff drawing' (she won a pair of Steve's signature drumsticks); Roxanne who was at Warped with her son, therapists and even a couple local police officers who were looking for a place to hang in the shade.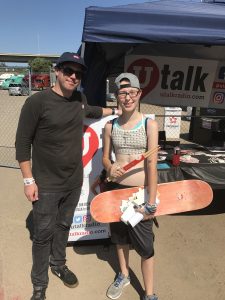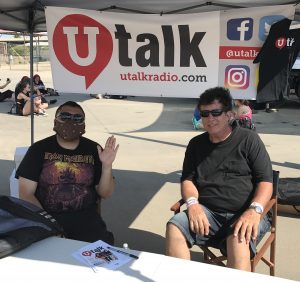 (Derek and Alexandria)                           (George and Steve)
Steve had the chance to interview John LaMacchia, leader of Brooklyn-based band Candiria, on their tour bus. They had a great conversation talking about lots of stuff including music, beating addiction and mental health. Stay tuned for the interview to air on one of our shows. You don't want to miss it.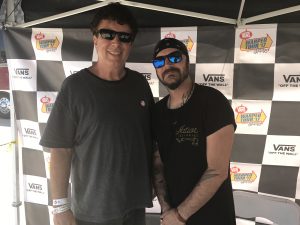 (Steve with John LaMacchia)
Besides Candiria, there were 97 other bands and artists on the 39 city tour this year. The list included acts of diverse genres like American Authors, Gwar, Bad Cop/Bad Cop, Beartooth, Dance Gavin Dance, The Gospel Youth, Montage, New Years Day and The White Noise.
For a complete list check out the warped site at vanwarpedtour.com. You may want to visit Wikipedia to learn about the history of the Warped Tour including how it became the largest music festival in North America and find out about the tour "BBQ Band."