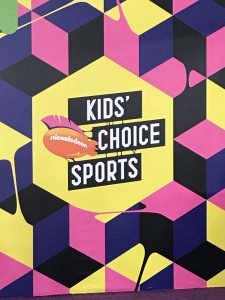 Orange carpet, slime, orange blimps and athletes all make up one of the slimiest events of the year. The Nickelodeon Kids Choice Sports Awards! A night where kids and teens get to vote for their favorite athletes in different categories and be entertained with lots of epic sports battles between their favs and take guesses on who's getting slimed.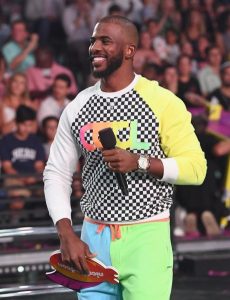 Chris Paul-(Photo courtesy of Nickelodeon)
This year the show was hosted by Houston Rockets Chris Paul and the Legend award went to Professional Racecar driver Danica Patrick who if you don't know was the first female winner in IndyCar Series history. The show took place at a Barker Hangar at the Santa Monica Airport.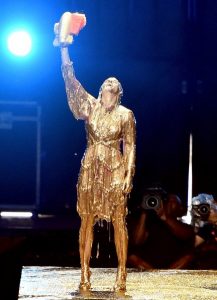 Danica Patrick got slimed with not green but gold slime to honor her Legend Award (photo courtesy of Nickelodeon)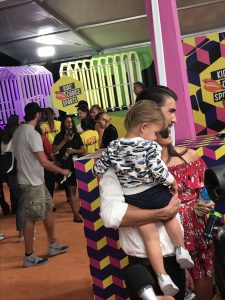 There were appearances by Nickelodeon actors Owen Joyner and Daniella Perkins who star on Knight Squad as well as Lip Sync Battle Shorties show sidekick and commentator Jojo Siwa. And of course all of your favorite athletes like: Snowboarders Chloe Kim and Red Gerard, MMA Fighter Rose Namajunas who was nominated for Biggest Powerhouse. Along with Professional Skier Lindsey Vonn and everyone's favorite Snowboarder Shaun White. Michael Phelps also walked the orange carpet with his son. But the biggest surprise of all was the one and only Stanley Cup was in the house.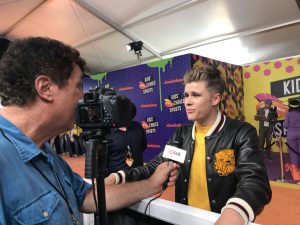 We had a blast interviewing your favorite athletes and celebs on the orange carpet. Keep checking out our YouTube page for interviews and our social media for more photos.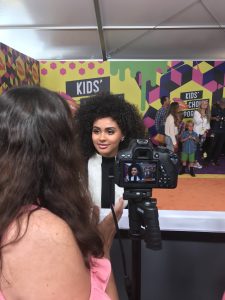 You can go to KCS2018.com for a list of winners, photos and videos from the show.