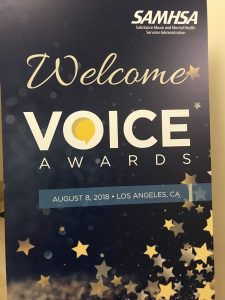 Do you or someone you know struggle with mental health or substance abuse issues? Then you need to know about the VOICE Awards and the resources of SAMSHA.
On August 8 the Utalk crew was a part of the SAMHSA VOICE Awards at UCLA's Royce Hall. The VOICE Awards recognize producers and writers in TV and film who have done a great job of educating the public about mental health and addiction issues. They give a voice to people with mental health and substance issues by incorporating accurate portrayals of these individuals into their scripts and productions.
The Substance Abuse and Mental Health Services Administration (SAMHSA) Awards also honors community champions for the tremendous role they play in improving the lives of those living with mental illness and/or substance use disorders. These leaders play a vital role in raising awareness and understanding of behavioral health issues.
                                  (Lea Thompson)                                                    (Rick and Kay Warren) read more