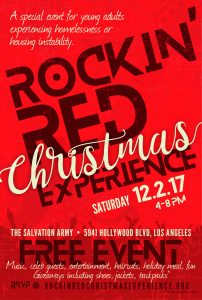 The second annual Rockin' Red Christmas Experience held on December 2 was amazing! It was a special event for young adults experiencing homelessness and housing instability in the Hollywood area.
Utalk collaborated with our friends at the Salvation Army to let homeless young adults know that they matter and give them an opportunity to experience the Christmas season in a unique way. The event had music, entertainment, celeb guests and giveaways.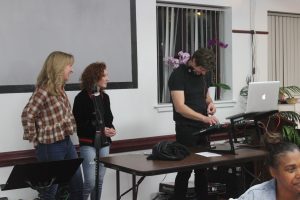 (DJ Robert Eibach)
When the "special guests" arrived (200 of them)they were treated to snack provided by Frito-Lay and Hubert's Lemonade; a holiday movie; photo-booth and award-winning producer, recording engineer, DJ and remixer Robert Eibach. Plus, cartoonist Jimmy Purcell (Been Better) brought along fellow artist Rob, who both drew cartoon pictures of those attending the event.
Also, on hand during the first part of Rockin' Red were people offering a variety of resources including Miracle Messages, Skynet Phones and the Frances Howard Goldwyn Regional Library.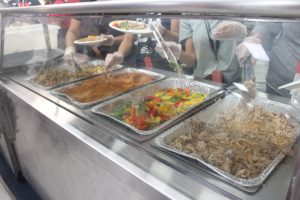 Next was a holiday meal with all the trimmings provided by Trader Joe's & Hope International Bible Fellowship. Robert Eibach also provided music during the meal. And actress Mychal-Bella Bowman joined Utalk host Kati Ann for a brief conversation.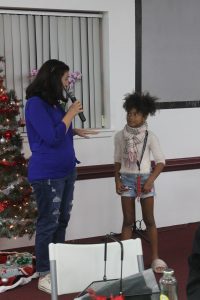 (Kati Ann and Mychal-Bella Bowman)
After dinner everyone moved into the historic auditorium, that's also part of the Salvation Army Hollywood facility, for a music and celeb packed program. Utalk host Larissa Lam was joined by hip hop artist Only Won along with Robert Eibach. Body builder, power lifter and karate-breaking artist Gerald Carter got people's attention with his feats of strength.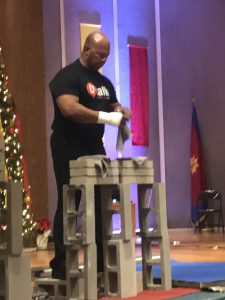 (Gerald Carter)
Award-winning producer and trumpeter David Longoria along with singer recording-artist April Diamond had fun with a "Christ stump the audience" segment. They also performed "Now of Never" – the title track for the new movie "Bloodline: Now or Never."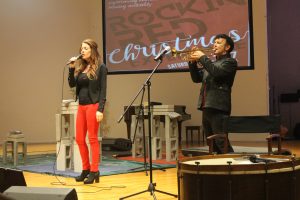 (April Diamond and David Longoria)
Steve, Larissa and Kati had the chance to interview actor Hudson Yang (Fresh off the Boat); Dodger alum Dennis Powell; actress Mychal-Bella Bowman; actor (Nick's Game Shakers), athlete and rapper Sheldon Bailey and actor-singers Piper Madison and Skylar Fayer.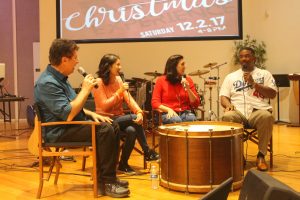 (Steve, Larissa, Kati and Dennis Powell)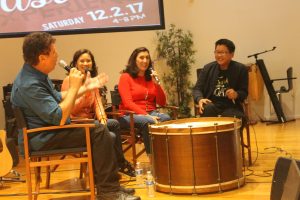 (Steve, Larissa, Kati and Hudson Yang)
Steve had a conversation with Lt. Juan Oregel about his own homeless experience and how he became a part of the Salvation Army. The program part of the evening finished with Steve telling the story of the "Legend of the Candy Cane." And Madison-Fayer closed off the show by performing their song California Christmas.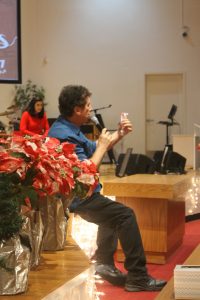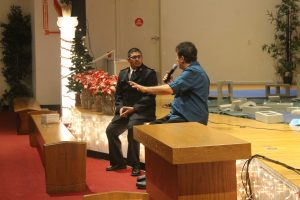 The event concluded with giveaways for those who attended that included a new jacket, pair of shoes, hygiene kit, Christmas stocking with a special candy cane from Logan's Candies and a new backpack. Celebs and 60 volunteers – including some from APU and First Baptist Thousand Oaks – worked to make sure everyone didn't leave empty-handed.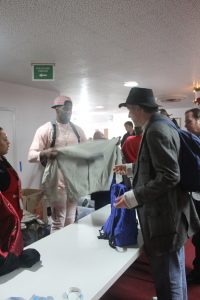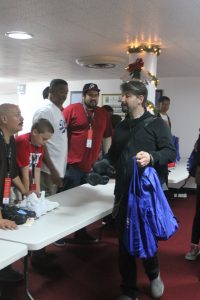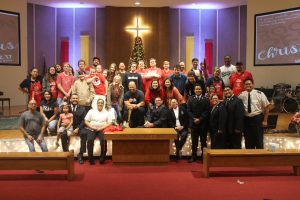 Make sure to tune-in to the Utalk Radio Christmas Special and New Year's Special that will feature segments of the Rockin Red program. The show airs from 8-9 pm PST / 11 pm EST on CRN. To find out how to listen go to: utalkradio.com/listen.