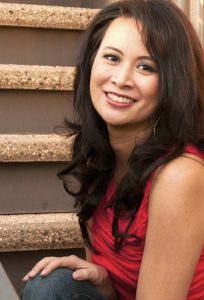 Larissa is an only child, which explains why she often talks to herself and stuffed animals. She is obsessed with Garfield, penguins and purple. She is a loyal Lakers and UCLA Bruins fan. She grew up watching way too much TV and is also a musical theater geek. She listens to sports radio when driving and loves to travel.
Follow Larissa on twitter 
@larissalam  
 instagram
@larissalammusic
Childhood Ambition: Music Producer
Soundtrack: Grease, The Lion King
Alarm clock: 8:00 AM
Perfect Day: Going to SeaWorld to see penguins, having a nice dinner at a French restaurant and eating profiteroles for dessert.
First Job: Worked in the shipping department of a computer company one summer when I was 16.
Animal: Penguin
Movie: Fave musical is Singing the Rain. Fave action movie is Wonder Woman. Fave animated film is Happy Feet.
Indulgence: Cream Puffs
Favorite place to visit: Australia
Dinner with anyone: Jim Davis, creator of Garfield.
Little known fact: I was 4th runner up in the Tiny Miss California pageant when I was 3 years old.